Le 21/12/2018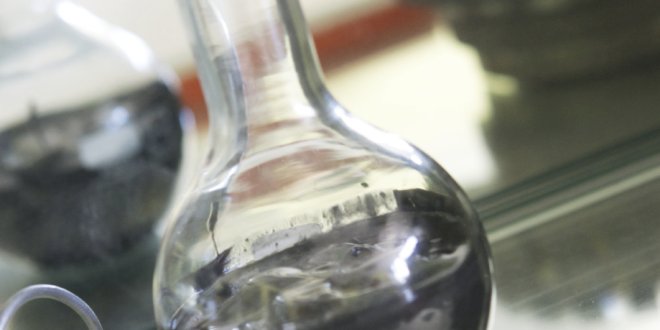 SULFUR-FREE SWABBING FOR NET SHAPE HOLLOW GLASS PRODUCTS AND BRONZE MOLD PROTECTION
Since 1854, the independent French company CONDAT is specialized in the conception and production of industrial lubricants with a specific know-how in greases formulation. Present in the field of hollow glass industry for more than 40 years, CONDAT has recently completed its swabbing mold compounds range with a sulfur-free grease. An innovation that many glass companies were awaiting for in order to progress on their final product quality.
For many years, sulfur has been a main component in swabbing neck ring molds as it is essential to fix the graphite present in the formula. Indeed, graphite content gives generally its lubricating power to the lubricant by giving it a good ability to release glass items from the mold. Graphite and sulfur are generally considered as a prerequisite by operators to minimize greasing operations in glass industry.
However, sulfur demonstrates several disadvantages when high quality glass parts production are requested. Sulfur can stain the bottles and also alter the molds, thus requiring removing them more frequently. This is especially true for bronze glass molds. Most of the time bronze molds are preferred to cast iron for high quality glass items production. Finer in terms of particle size, they allow precise results and nice bottles aspect. But reaction between sulfur and bronze is a nightmare and can provide serious chill marks if no sufficient cleaning and mold changing are done. Whereas a cast iron mold can easily produce about 3 million bottles without any change, a bronze mold needs to be removed every 1 million bottles manufactured due to sulfur attack. As a consequence, only 10% of the mold used in the glass industry are made out of bronze and this is detrimental to product quality.
As customers are becoming more and more demanding for high quality hollow glass items, the market was requesting for a solution to be found on a sulfur-free lubricant to increase use of bronze molds.
Jérôme Charvet, glass market manager: 'Our customers always want to improve their product quality to satisfy their final clients. As IS machines lifetime is very long and swabbing process is about the same since ages, we had to find out a solution on the swabbing mold compound side.'
CONDAT R&D department and engineering team found out a solution to pull up the industry towards a new step. 'We first worked out on constraints encountered on the neck ring and blow molds, says Florent Ruffino, glass product manager at Condat. Most of bronze molds are dedicated for neck ring and finish releases as the quality at this stage must be optimum for the final aspect of the glass item.'
 Thanks to the company industrial structure and R&D laboratories (40 persons), CONDAT is able to answer all tailored made development for greases and lubricants. The graphite expertise, earned in specific other applications such as forging and die casting, is a pledge of reliability and quality on the products that the company offers. 'In addition, the acquisition of the RENITE company in October 2017 brought us new perspectives, continues Florent Ruffino. Together with our lubricating graphite expertise on various application fields, CONDAT R&D chemists were able to develop a specific fixing additive to replace sulfur function in the swabbing compound formulation.'
The development of CONDAGLASS 367 SF (Sulfur Free) grease has shown very good results in several companies. 'Attention was mainly paid on the releasing properties and demolding abilities of the product, a main issue when it comes to eliminate sulfur, precise Jérôme Charvet. In situ tests showed that the time usage of a bronze mold could be doubled thanks to CONDAGLASS 367 SF. More than 2 million bottles could be produced with this new product development. Customers also noticed improvement of mold surface condition with no alteration and enhancement of the bottle glass quality. Swabbing frequency could remain identical to the one experienced with a sulfurized swabbing compound.'
CONDAGLASS 367 SF has been designed for the glass producers that want to improve their level of quality and create articles with high perceived added-value. It helps eliminate defects on the affected part of the bottle and ensures lubrication of engravings. 'This innovative sulfur-free swabbing mold compound is proposed to the industry at a good quality-price ratio.' precise Jérôme Charvet. And is not more expensive than a sulfur grease'. So why not testing it?
Since 5 years, CONDAT has been very active on the glass lubricant market and wants to become an alternative supplier in this sector. In addition to its lubricants range dedicated to hollow glass (soluble lubricants for shear spray, scoop oils, dual-component product for delivery coating, oils for conveyor belt chains), the company offers now the most comprehensive range of swabbing compounds. To stand out, CONDAT launched 4 years ago innovative sprayable greases for robot swabbing and was able to get a leading position in supplying this type of product on blank molds. With new CONDAGLASS 367 SF (Sulfur Free) product, CONDAT should strengthen its position of innovative supplier.