Le 29/03/2023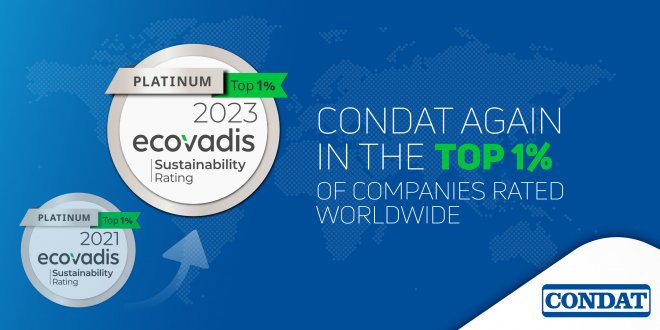 CONDAT, an international specialist in industrial lubricants for more than 165 years, is pleased to announce the renewal of its  "Platinum" medal awarded by EcoVadis, the Corporate Social Responsibility (CSR) platform. The company has demonstrated its commitment through concrete actions and its efforts to evolve its business model over the long term. This proactive approach allows the company to keep this medal obtained in 2021. With this result, CONDAT remains  in the TOP 1% of the best rated companies in the world by EcoVadis.
Initiated decades ago, CONDAT's responsible commitment  is based on one of the Group's core values: BUILD TO LAST.  CONDAT is thus one of the precursors in the development of industrial lubricants with a reduced environmental impact, launching  its first biodegradable lubricants more than 20 years ago.  The company also integrates sustainability goals at every stage of product life, as evidenced by its unique eco-designed product self-assessment system, the Lubriscore®.
Reducing the carbon impact of its production sites is also one of its priorities. In 2022, significant efforts were made for example on the French site in terms of reducing water consumption (-15%), electricity consumption (-18%) and on transport, the company was able to reduce its CO2  emissions by 8% compared to 2019.
In February 2023, CONDAT integrates the Climate Enterprise Convention (CEC). The ambition of this program is to support, for 10 months, companies and their managers to move towards the 'regenerative company', that is to say to go beyond the ambition of a responsible company by moving towards a business model that contributes to the environment.
With the climate challenges, CONDAT's objective is to encourage social and environmental commitment by offering a safe, efficient and least impactful product offer. Through this 'raison d'être', the company wants to show that a new path is possible thanks to the strength of its collective.